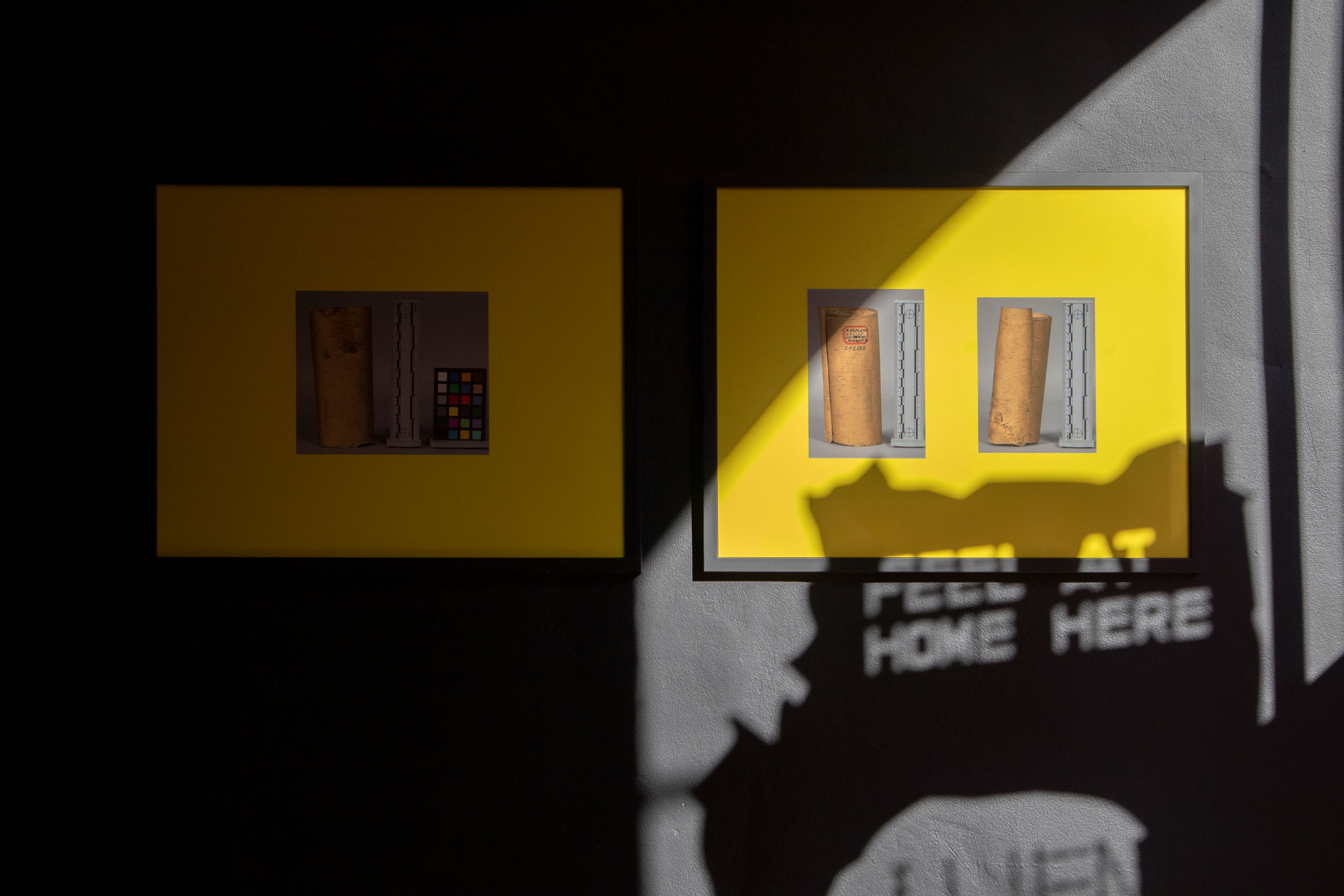 Installation view of Adam Khalil and Zack Khalil: INAATE/SE/ [it shines a certain way. to a certain place./it flies. falls./] at Obsidian Coast, 2020
<!–– Introduction --> Our goal is to make our space and programme as accessible to as many people as possible.
<!–– Description --> Obsidian Coast is located in a small, part residential 19th century building on Silver Street in the medieval town of Bradford-on-Avon. Silver Street has narrow, and at points uneven, raised pedestrian pavements, which are currently widened to include some of the road to give more space for social distancing. This means that the pedestrian pathways on Silver Street are partly on two levels. If you arrive from the direction of the train station and Town Bridge, the final part of your journey (Silver Street) is uphill.

Our shopfront gallery is on street level with two steps at the entrance, and a wheelchair access ramp is available upon request. If you would like to visit us and require a ramp, please contact us in advance via info[at]obsidiancoast.art and we are happy to put the ramp in place for your arrival.

Large-print versions of our printed materials for visitors are available at the gallery and, when applicable, we endeavour to subtitle or provide written transcripts of any spoken script in the works that we exhibit. We warmly welcome guide dogs and hearing dogs to enjoy our programme.

We have seating available for our visitors to enjoy our programme and library in comfort. Additional seating can be provided upon request. When an installation is darkened for a moving image work, we are happy to guide you through to a seat.

We are happy to mind a buggy or a large bag at the entrance or, if preferred, store it in the office during your visit.

Unfortunately, our small building does not allow for an accessible toilet for our visitors. Our limited access bathroom is in the residential part of the building accessible via stairs only and not routinely open to the public. Accessible bathroom facilities can be found at the local train station car park 500 metres away.

If you would like further access information regarding our space or programme, please do not hesitate to reach out to us via info[at]obsidiancoast.art. We will always do our best to help you with your requirements.

This access statement is something that we are building on over time. If you feel that any crucial information is missing, please do let us know and we will expand the statement in response to your feedback.